Hello everyone~!
After the passing of the large typhoon at the beginning of the month,
Iriomote Island has returned to its peaceful everyday life~!
I hope the impact of the typhoon was manageable in your respective areas?
While Iriomote Island managed to avoid significant typhoon damage, there is still a shortage of ingredients in supermarkets and stores.
There might still be those of you living in areas where the typhoon is yet to arrive, please make sure to stay safe in a secure location.
I'm sending you a sunset picture taken at Moon Beach yesterday.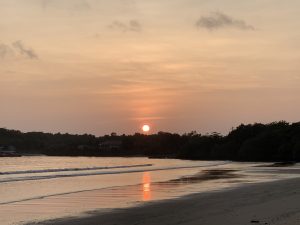 Until next time~!