Recommended spots in Iriomote Island
These are the resort spots of a World Heritage experience which you can explore only here.
Please feel nature untouched by human as it is.
The sea, the river, the ecosystem, which you can experience only here on every count, awaits you.
It is just an oriental Galapagos where subtropical peculiar fish in the sea, Japan's largest mangrove trees are in the river and various kinds of animals and plants can be found in the native forest.
Well, how many of them can you find?
Boat Departures: tour content changes depending on Closed: No closing days
Fee: 1,850 JPY for boat
Age: anybody
Approximately one quarter of mangrove trees of the entire Japan exist in this Nakama river.
You can see "Sakishimasuounoki," a tree with large roots at high tide in this tour. At low tide, you cannot go to the landing point by boat where we can see the root of "Sakishimasuounoki," so in this case you will see the mangrove called sonneratia alba on boat in this tour. Elderly people can join this tour safely because you don't have to walk.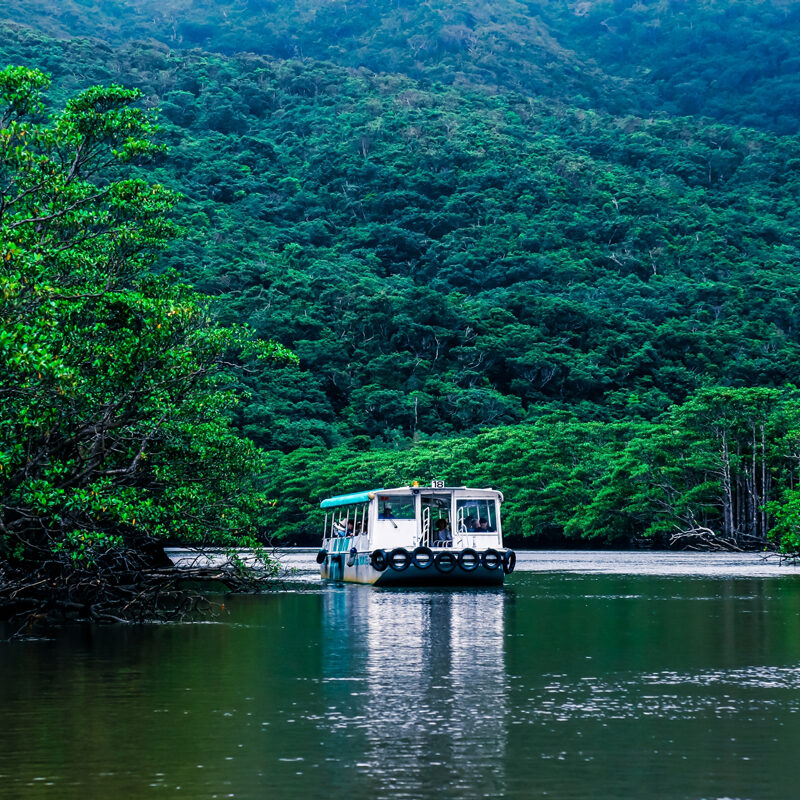 Boat Departures: 9:00 to 15:30
Closed: No closing days
Fee: 2,200 JPY for boat
Age: anybody
Urauchi river is the largest class river in Okinawa prefecture. Since a lot of mangroves live in this river, you can easily feel the nature of Iriomote Island. Anyone from adults to a child can enjoy it due to the tour using a boat. Also, it takes around 40 minutes on foot to see Mariyudu falls from landing place upstream and another 15 minutes walk, you can go to the Kanbire falls.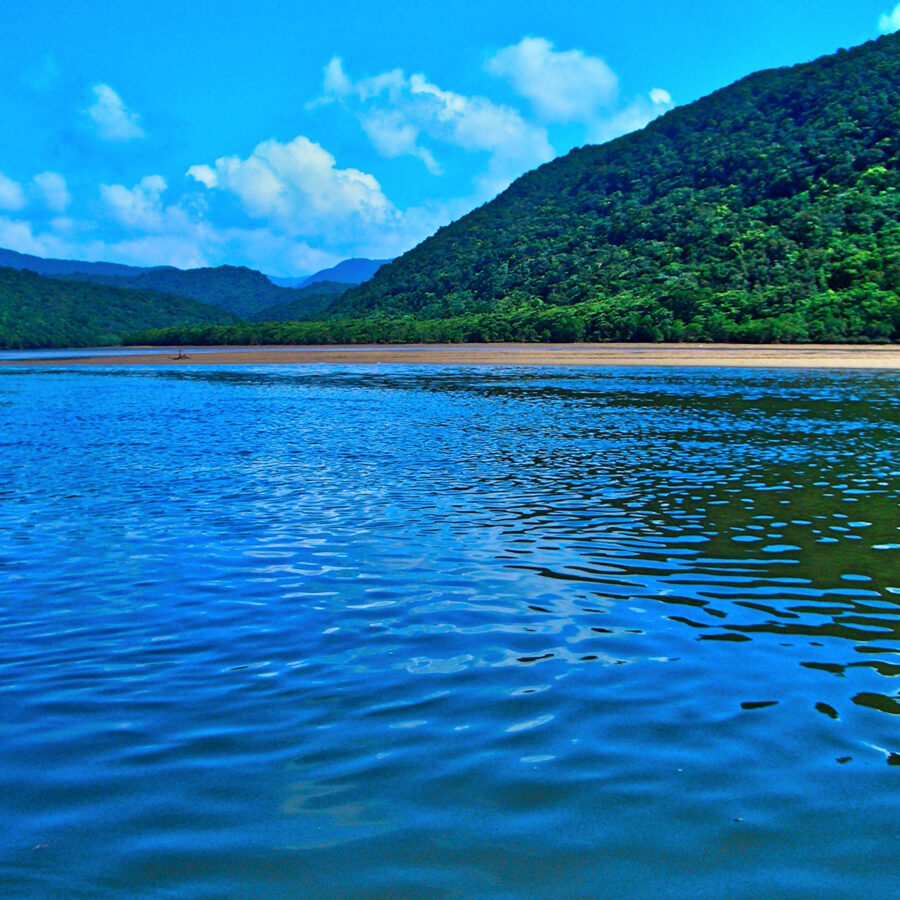 Fee: about 10,000 JPY for a half day tour
Age: Except small children and elderly people
Do you know the Japanese anime "The Princess Mononoke" ?
The forest spreads with all green trees and mosses. Not only trees, but rocks in the river are covered with green mosses. So it looks like a scene from "The Princess Mononoke."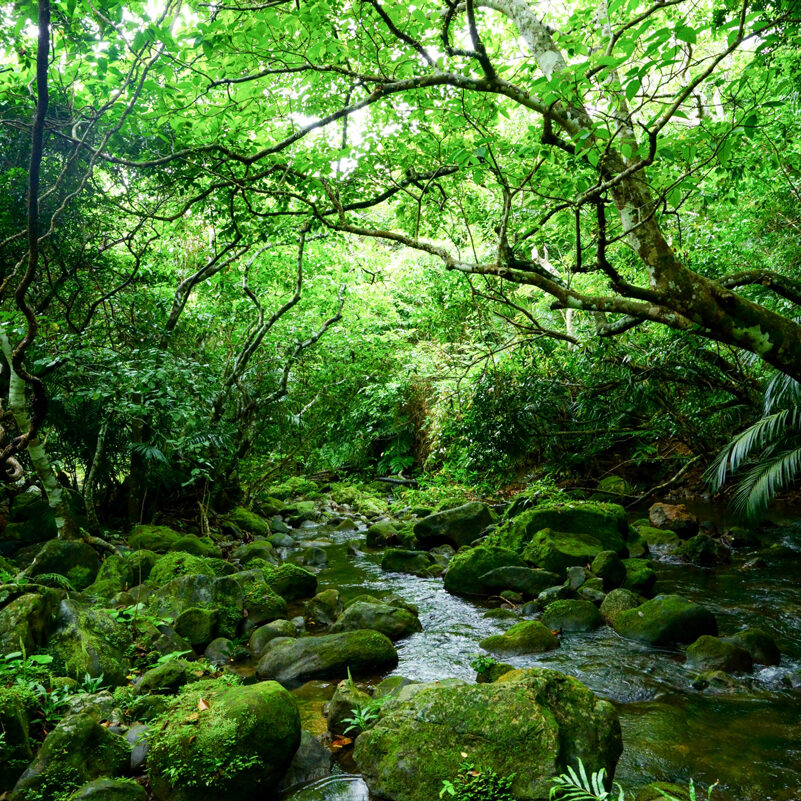 This one of the typical Japanese waterfalls among Japan's top hundred waterfalls. It takes about 40 minutes on foot from a landing place upstream, so it may be a bit hard for children and elderly people.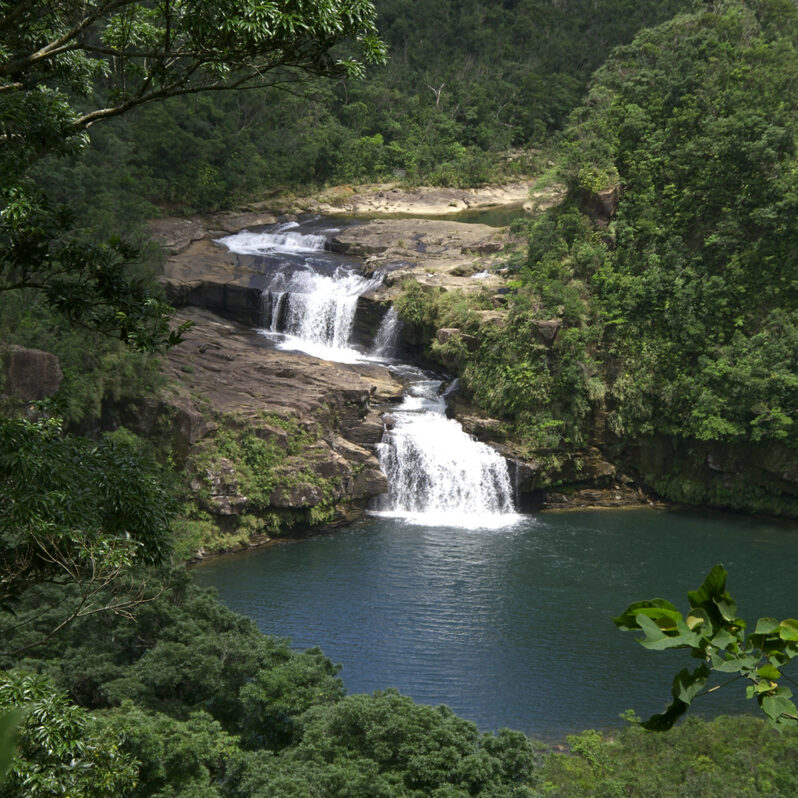 You can reach Kanbire Falls in 15 minutes from Mariyudu Falls. It is a very long waterfall with a low height difference so it doesn't look like a waterfall. It is sanctified by local residents. So please observe with a pure mind.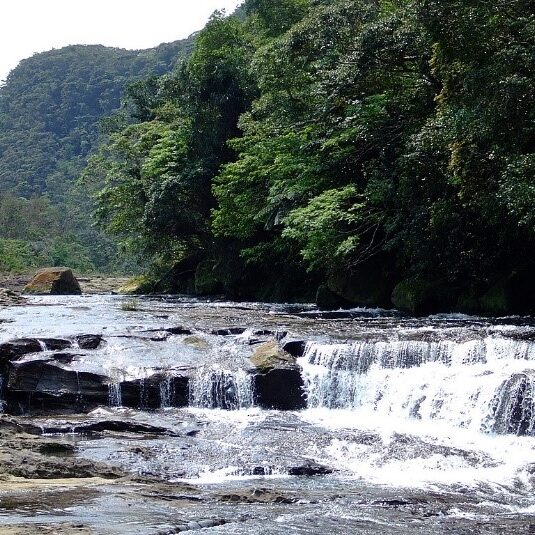 Fee: about 8,000 JPY for a half day tour
Age: Except small children and elderly people
This is the waterfall with the largest height difference in Okinawa prefecture. You need to participate in the tour to see this waterfall. It takes about 40 minutes by canoeing slowly, then additional around 50 minutes of mountain climbing to the Pinaisara Falls. It is a difficult a tour for small children and elderly people due to the long distance by canoeing and walking.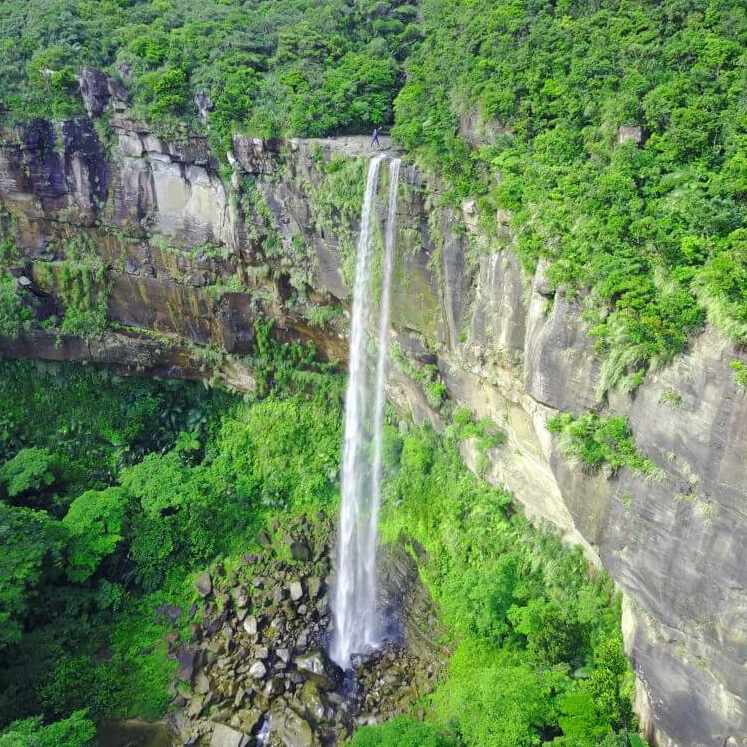 Hours: 9:00 to 17:00
Closed: No closing days
Fee: 1,760 JPY includes entry to the islands botanical garden
Age: anybody
This is the island where anybody from children to adults can enjoy the nostalgic scenery in Japan. Especially, shamisen sound which a driver performs offers a blissful moment when you ride on a buffalo cart crossing the sand road at low tide to the island. Please enjoy a relaxing time, called "Okinawa time".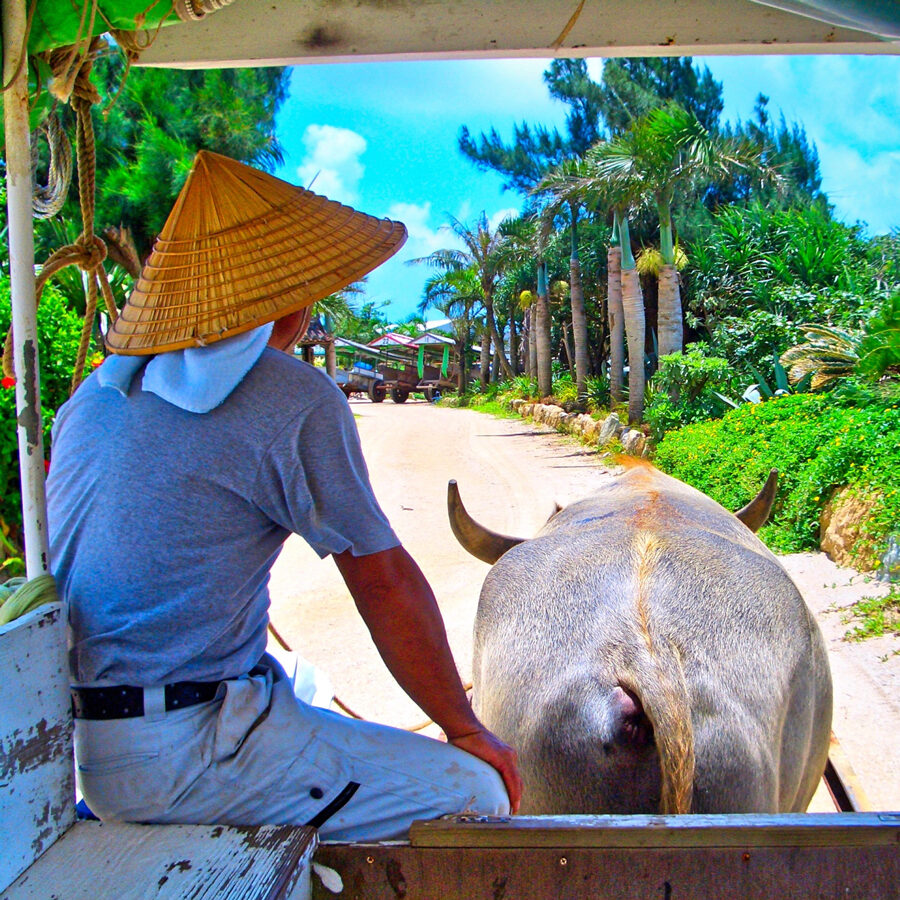 Fee: from 5,500 JPY for a half day snorkeling tour
Age: Except small children and elderly people
It takes about 10 minutes by ship from the port of Uehara.
It is called a miracle island because it only appears at low tide. That's why it is an uncharted island in Japan. Also, you can enjoy the crystal-clear sea water because the entire island is made of dead coral so the sea water never becomes muddy with sand.
Since UV rays are very strong in Iriomote Island, and there are no trees around Barras island when you go there. Be sure to protect your skin from the UV rays when you participate in the tour.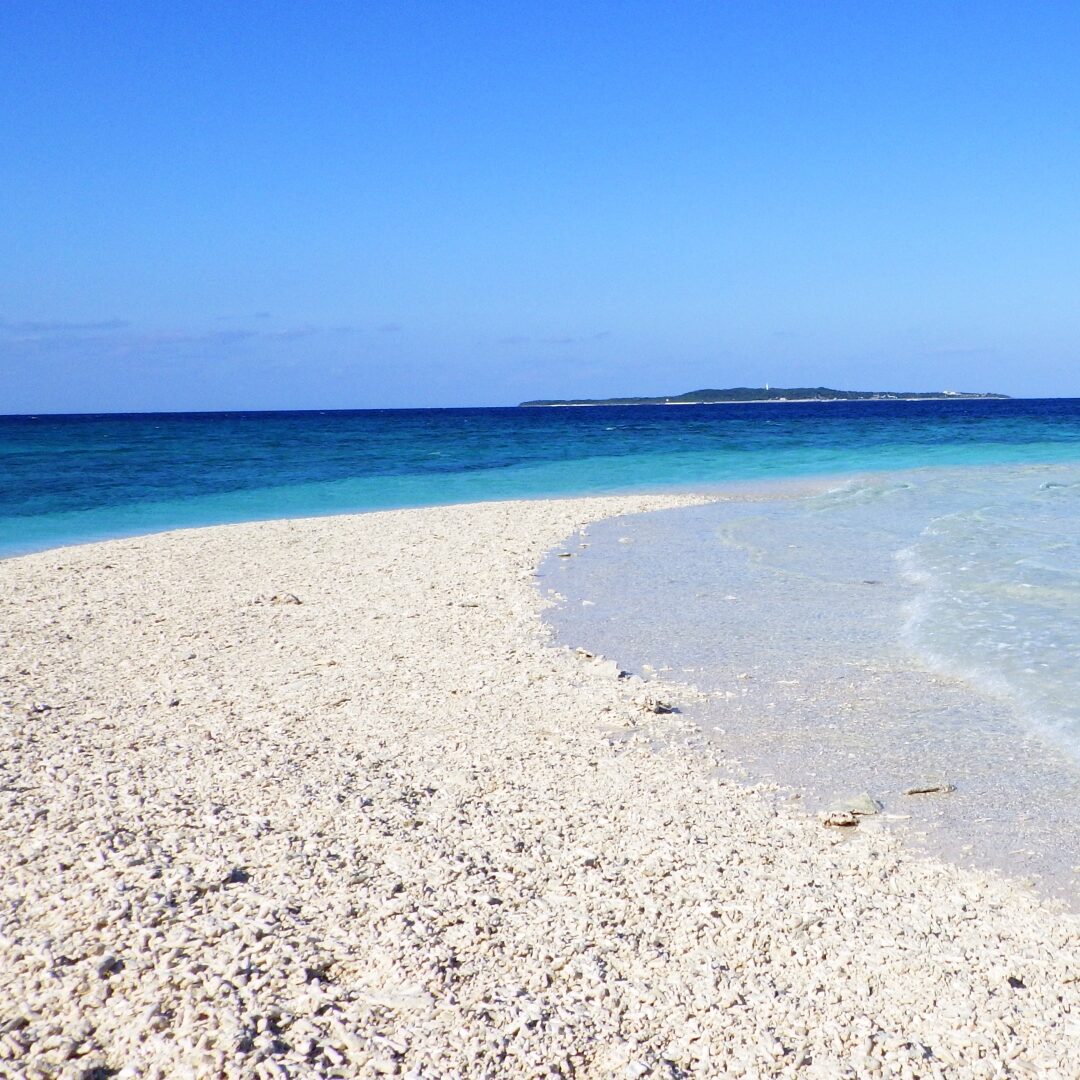 Closed: No closing days
Fee: 960 JPY from Shirahama port to Funauki port
Age: anybody
The place you cannot reach easily while you're at Iriomote Island. That is Ida beach.
Ida beach is a part of Iriomote Island, but you cannot go there by car because there is no road to. You can finally reach there by taking an additional ship. So this will give you a lot of privacy. You may already be enjoying yourself as you come to Iriomote Island, as there are not so many tourists unlike at other resort spots in the world, but you can enjoy more in this place. If you have time, feel free to go there as a day trip can be OK.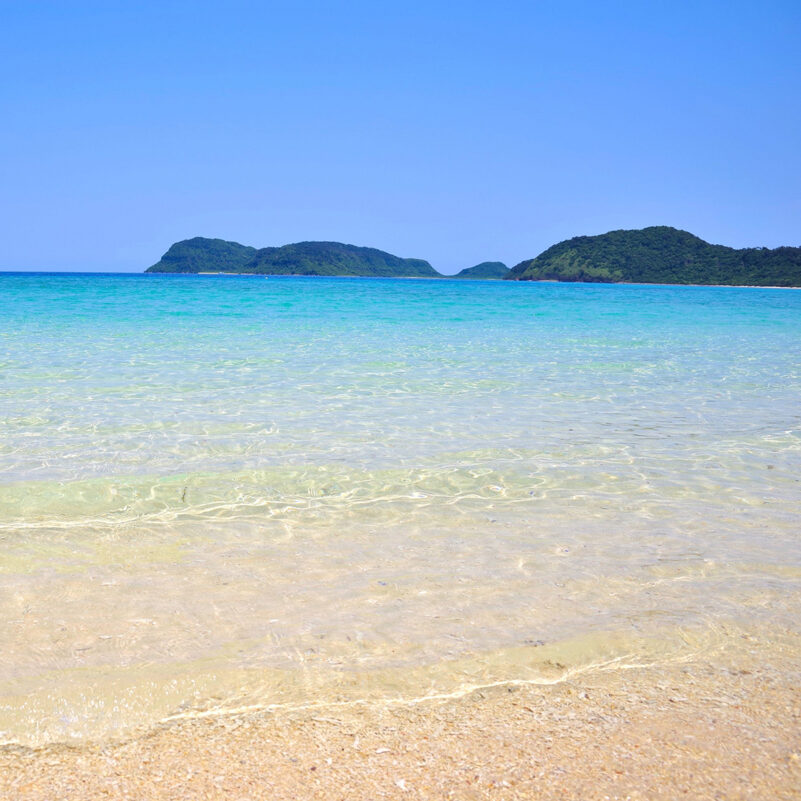 Fee: Free by car or bus
Age: anybody
It is called Star Sand Beach since the shape of sand is like a star.
You can enjoy relatively moderate shallows because there is a large rock just ahead of the shallow beach, and the waves are blocked by the rock. Almost all of the tourists who come to Iriomote Island surely go to this beach. Many children enjoy finding tropical fish, crabs and other sea creatures there.