In 2021,
Amami Oshima, Tokunoshima, northern Okinawa Island and Iriomote Island were registered as a world natural heritage site.
Miracle "Iriomote Island" has nurtured a unique ecosystem from time immemorial.
The isolated island which was separated from the continent has achieved unique evolution and created a diverse ecosystem including endangered species.
Explore Iriomote Island which has been registered as a World Heritage Site.
We islanders think that we'd like to leave this gift from nature to future generations in response to the fact that Iriomote Island has become a World Natural Heritage Site.
We strongly hope that many people from all over the world could know about Iriomote Island, where the ancient ecosystem still exists and that they could cooperate with our efforts to protect the great nature of this island.
For those who come from overseas
There are almost no English speakers in restaurants, Japanese inns, activity facilities and so on in Iriomote Island, although there are lots of tourists from overseas.
If you have any problems, please feel free to contact our site.
Our staffs who have studied abroad, very rare on this island, will support customers from overseas.
About payment via credit cards or cash
You can use a credit card in some restaurants, Japanese inns, activity facilities, but contactless payment such as ID, PayPay, Suica, PASMO can hardly be used.
Be sure to prepare cash before arriving at Iriomote Island.
Although there are ATMs on this island, a limited number of banks are available.
There are no facilities like large supermarkets or convenience stores.
As a whole island, two shops in Uehara district, two shops in Ohara district, one shop in Sonai district and one shop in Shirahama district.
Opening hours are around AM 8:00 to PM 20:00, depending on each shop.
They sell minimum necessary commodities, unlike convenience stores or supermarkets in the metropolitan area. We recommend you to buy foodstuffs for barbeque or marine goods, etc. at Ishigaki Island before coming to this island.
About temperature, outfits and UV protection.
Although Iriomote Island may be considered as an island of perpetual summer, actually the average temperature in November through March is 18 to 20 degrees Celsius, so it is a bit cold for wearing a short sleeve shirt.
Then, it becomes real summer in April through October and the average temperature is around 30 degrees Celsius that is appropriate to say the perpetual summer.
Be sure to prepare sun glasses, sunscreen, UV protective outfits and so on, since UV rays are very strong.
For those who keep their guard down like, "it's OK because I often go to the sea in summer"
The UV rays in Yaeyama district are different. Be sure to wear a rash guard when playing in the sea, especially children are recommended to be well prepared to avoid being too painful to move on after the second day due to sunburn of the first day.
Iriomote Island means a typhoon often heads towards, you can see typhoons come close in July through October, according to the statistics from the past ten years.
It usually passes through this island with higher strength before hitting Honshu Island. You may see a car rolled over on TV News, that scene happens year after year in Iriomote Island.
As a typhoon approaches, following things happen on a daily basis.
Various kinds of objects are blown by the strong wind. (Cars and containers may be moved and rolled over)

Power outage and Water outage may occur when typhoon passes through. (It takes a couple of days to recover and this happens a few times per year.)

Obviously, ferries are cancelled, so people cannot get on or off the island.
Also, if people are affected by typhoons (cannot get on or off the island), special "typhoon" prices will be offered by Hotels and accommodations. That is a common thing in the Okinawa area. (It's a bit cheaper than usual.)
If you come to this island and the return ferry is cancelled, please let us know that you cannot go home due to the typhoon when booking extra nights.
About mobile phone and Wi-fi
There are no mobile carriers that cover the entire Iriomote Island.
You can use a mobile phone in the main part of the island, however there are many no reception areas when going into a forest or hinterland.
Also, there is no free Wi-fi. Please contact each hotel or accommodation beforehand.
One or two persons become missing when going into native forest without a help of a tour guide every year.
Even islanders who know everything about this island, can get disoriented when entering native forest.
Please be aware that it is difficult to search through when you are missing.
As written in the following paragraph about transport, Iriomote Island is the second largest island in Okinawa prefecture.
Since most of the area of this island is native forest, it is extremely difficult to search through when you get lost due to the lack of cell reception.
It is not so known that Iriomote Island is the second largest island in Okinawa prefecture.
Because of that, it is difficult to get around on foot. Rental cars and rental bikes are the main ways of transportation.
It is recommended to use the shuttle bus of hotels or buses by activity facilities for those who have already decided their destination or have limited range of action. (Please contact each facility beforehand.)
There are no trains, but buses are available.
For more detail, please refer to https://iriomote.com/top/routebus/
Actually, the roads are not connected around the island. Almost half of them are in use, the distance is 50km.
It takes 70 to 90 minutes by car, 4 to 5 hours by bicycle.
The speed limit is always 40km per hour. (Partly 30km per hour in some village area.)
You may encounter wild animals including Iriomote wild cats at night, so please slow down the speed at so called "island speed".
Some elementary school students come to this island with starry eyes saying "My summer homework is to observe Iriomote wild cats."
Sorry !
Even islanders rarely see "Iriomote wild cats".
So it's a "miracle" if you could see them.
It's a "super miracle" if you could take pictures or videos.
Please post on Instagram if you could.
There is only one traffic light on the island.
Do you know the reason why one traffic signal here?
This is because children who haven't seen traffic lights will not have any trouble when they become adults.
For this reason, only one traffic light is placed in front of an elementary school.
If you see the red light, it might be when children want to cross the street.
Please pay careful attention and be kind.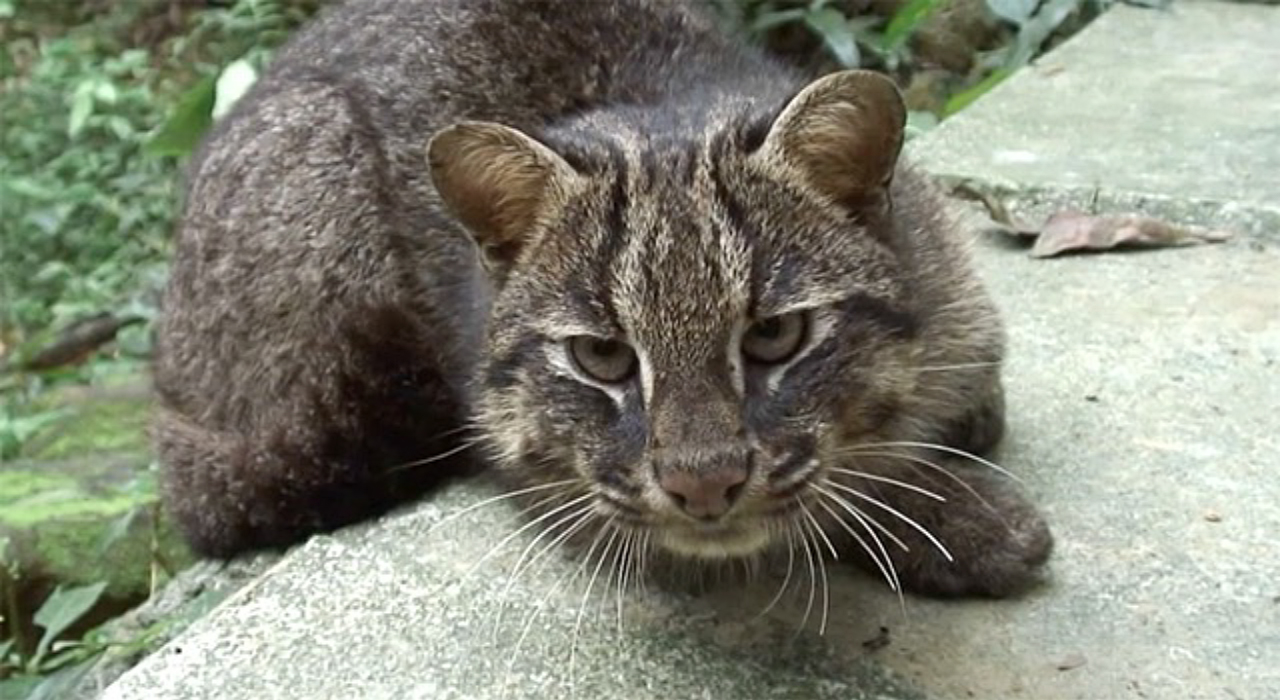 Iriomote wild cats, designated as a national nature treasure and endangered species, live on Iriomote Island.
It is said that around 100 cats live there now. Please be careful during night driving since there is a possibility of reacting to the head light and running out onto the road.
Please just observe them when you find them by any chance.
As a rule, the ecosystem of nature should remain as it is.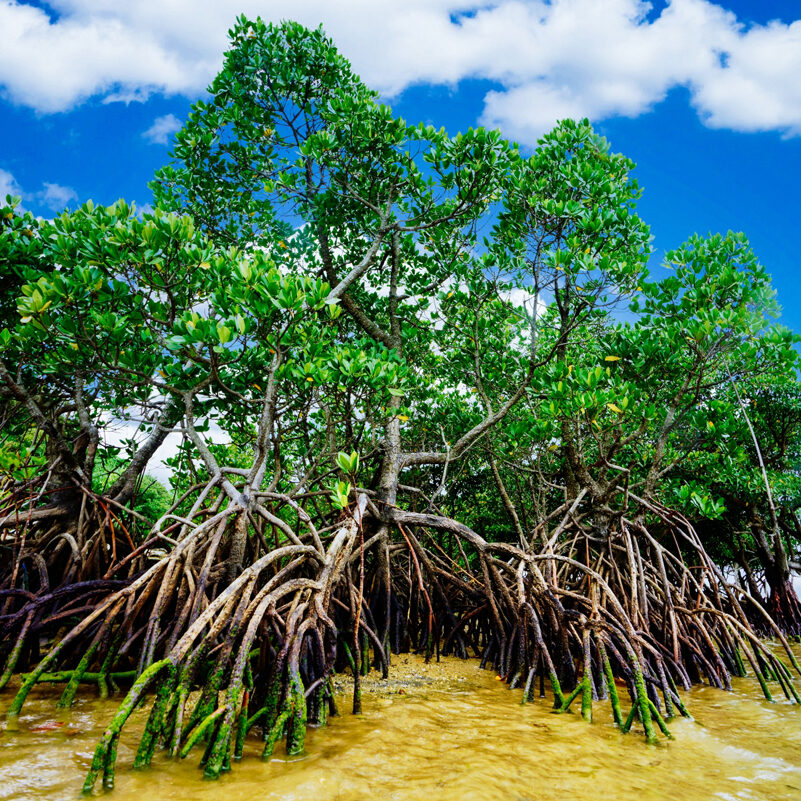 "Iriomote Island" in Yaeyama district has established a unique ecosystem since before Christ.
One of the plants ecosystem is "mangrove."
Mangroves in Iriomote Island consist of 4 families and 6 species. Especially, the area of mangrove trees in Nakama-river in the east part is as large as 108ha, designated by the nation as "Nakama-river natural protective area"
Various kinds of creatures live in the mangrove trees, such as mammals, birds, reptiles, and amphibians, whereas shrimps, crabs, and shellfish live underwater.
Stretched respiratory roots and prop roots provide safety and important spaces for a lot of juvenile fish.
Mangrove tour is recommended if you come to Iriomote Island.
You will be able to experience the greatness of the Iriomote Island which is rich in nature.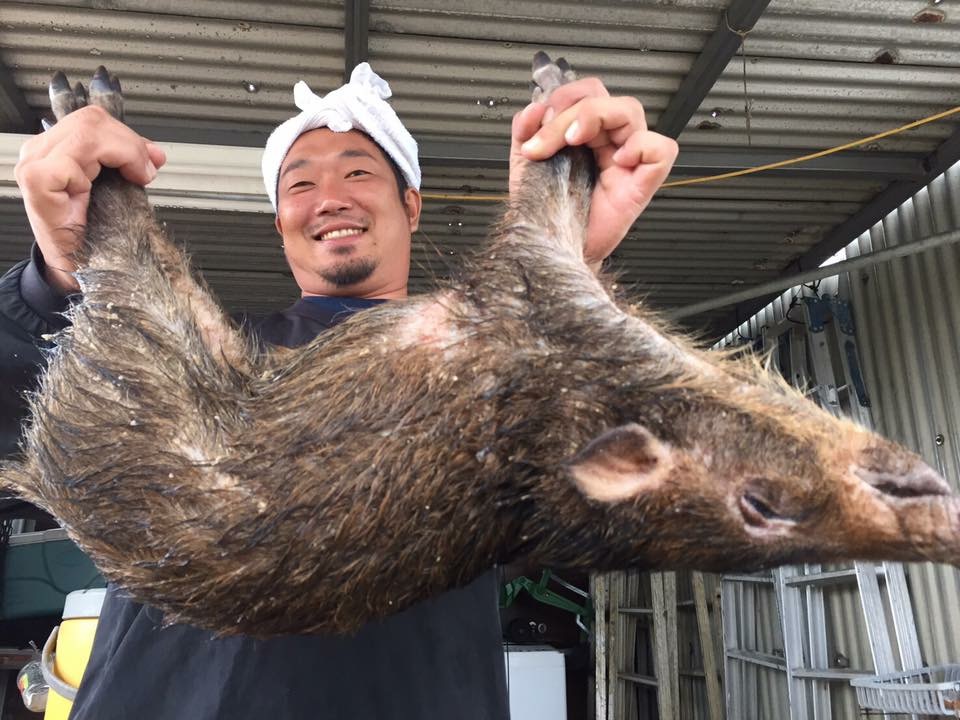 Food on the island is one of the best parts of the trip.
Few people may have heard of "Irabuchah."
Irabuchah is a typical tropical fish and is a general term for parrotfish kind.
You may often see blue parrotfish, but there are also red, white and black.
It's white-fleshed fish and tastes light. It is often served as sashimi, raw or masuni, simmered with salt.
*However, there is poison in the internal organs, so please consult with an expert.
You should not forget about "Kamai", Ryukyu wild boar hunted in Iriomote Island.
Hunting period is from November 15th to February 15th following year. The staple food of the wild boar is called Adinga (largest acorn in Japan) or Fugu (chinquapin) and it tastes light like an Iberian pig without any distinctive smell.
For this reason, Ryukyu wild boar hunted in Iriomote Island is cherished for its especially good taste.
We introduced the typical food culture of this island, of course, there are a lot of meals even children and ladies can eat deliciously. Please be assured.
We recommend that you make reservations for dinner beforehand during the busiest season.
You may experience a full house when going out for dinner without reservation.
In those cases, please wait with a generous mind so called "islanders' mind."
Opening hours are different depending on each store, so please be careful.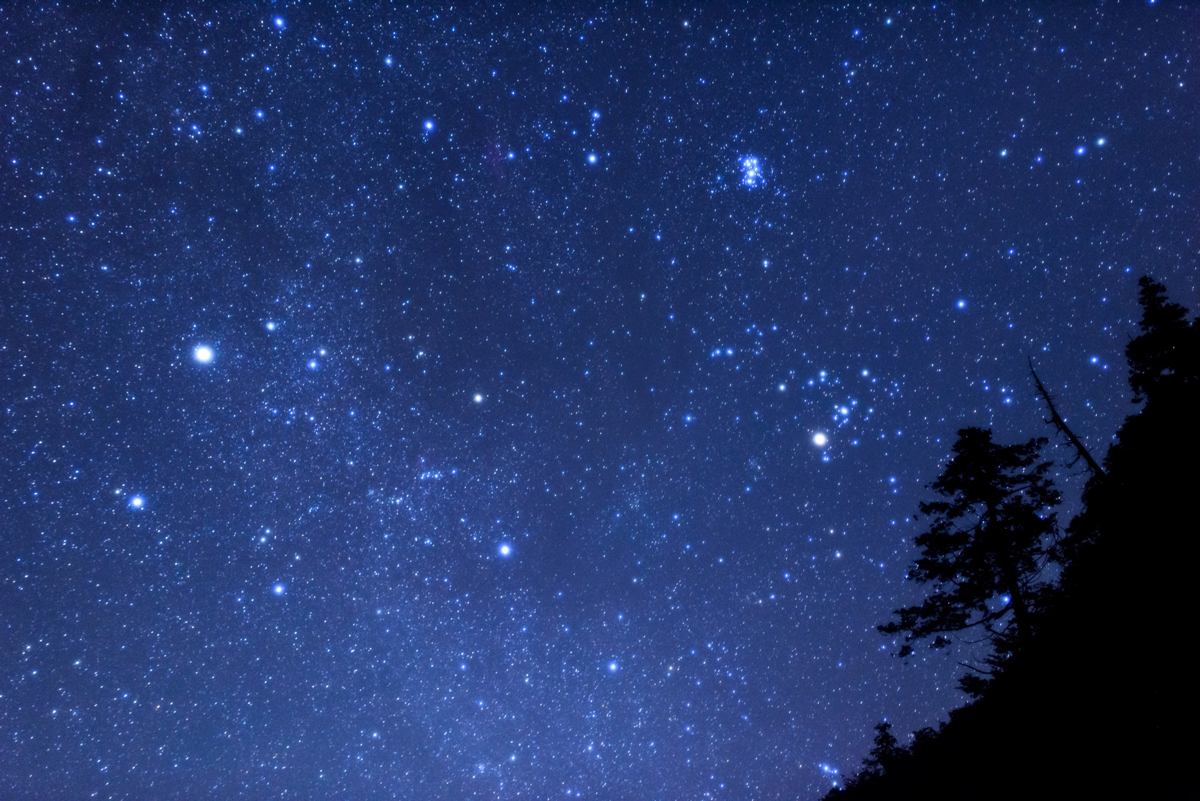 Highly recommended spot when you come to Iriomote Island.
All things aside, it's the night sky filled with stars.
It's a little-known fact, but it is recognized as a Japan's first International Dark Sky Place.
It's really a natural planetarium when you could see the starry sky on a day without clouds and moonlight.
Iriomote Island is the only place in Japan where you could observe 84 constellations out of totally 88 and all the 21 first stars.
Please experience night sky with the person who is important as the memory of the island.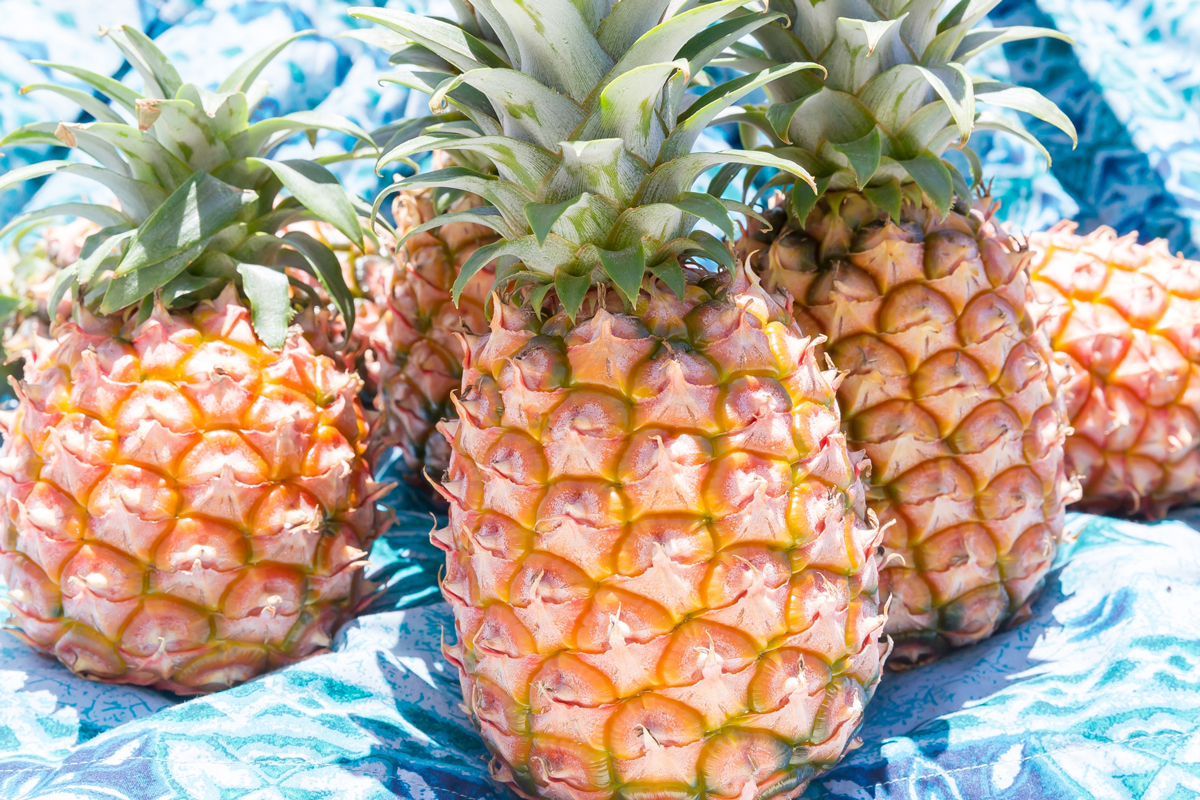 We introduce pineapples from Iriomote Island among a number of souvenirs.
Did you know that most of the pineapples sold in Japan come from abroad?
Only about 10% of them from Japan.
Among those, pineapples from here are recognized as milky and soft fresh fruit and a lot of fruit juice.
It is called peach-pine due to having fragrance like peach with "highly low sugar acid."
If your tongue is tingling when eating pineapples, we highly recommend the pineapples from here.
There are so many farm stalls selling pineapples at 100 yen to 500 yen all over the island, it's first come, first served when you find. It's ready to eat when the peripheral color becomes orange. You can eat to the core, so please finish it off.