Hello!
I would like to introduce "Sagaribana" this time~!
Many people may visit Iriomote Island to have a glimpse of this flower during this season, don't you think?
Sagaribana is a "phantom flower" which blooms when the sun goes down and falls at dawn,
It is a rare flower that can only be seen in limited areas in Japan.
Characteristically, it produces white or pale pink, downy flowers in a row around a dangling stem.
I understand that they are also called "Sawafuji" (meaning "Sawafuji" in Japanese) because of their resemblance to "Fuji flowers.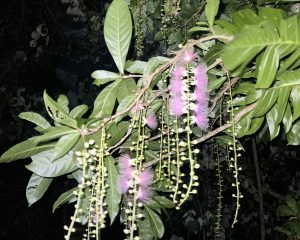 Well, I went out for an evening hike for sagaribana.
We immediately found white and pink fluffy sagaribana everywhere.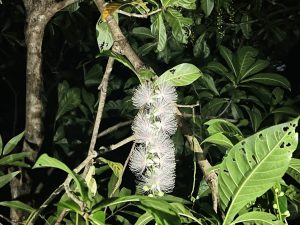 The wafting smell is also attractive,
The space was filled with an indescribable mystical atmosphere as it was illuminated by the moonlight.
I hope everyone can experience this!
It seems that until the end of July is the best time to see the sagaribana.
This is such a popular summer season that many tour companies offer night tours, early morning tours by kayak, and other sightseeing tours.
Please come to Iriomote Island to experience this excitement.