Hello!
The strong winds that have been persisting in Iriomote Island have finally calmed down, and a bright and pleasant summer has arrived!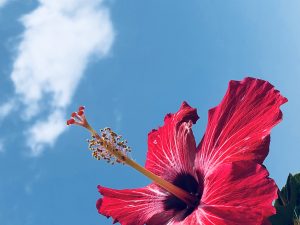 This time, let me introduce you to the way to get to Iriomote Island.
In summary, here is how you can get to Iriomote Island:
\– Traveling to Iriomote Island —
1. Depart from your respective departure airport to Ishigaki Airport (Ishigaki Island).
2. From Ishigaki Airport, head to Ishigaki Port Rito Terminal (approximately 30-40 minutes by car).
3. From Ishigaki Port Rito Terminal, take a ferry to Iriomote Island (approximately 50 minutes by boat).
Yes, there is no airport on Iriomote Island.
But don't worry!
You can reach Iriomote Island by ferry from Ishigaki Island, where the nearest airport, New Ishigaki Airport, is located.
You can come to New Ishigaki Airport from major airports both domestically and internationally using airlines such as JTA (JAL-affiliated), ANK (ANA-affiliated), Skymark, or Peach.
Having New Ishigaki Airport available since the old Ishigaki Airport was replaced is definitely convenient for budget airlines as well.
For the ferry to Iriomote Island, it departs from the "Ishigaki Island Rito Terminal."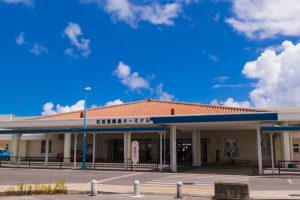 From New Ishigaki Airport, you can reach the terminal by bus or taxi in about 30-40 minutes.
The terminal is also famous for having a statue of a certain person…!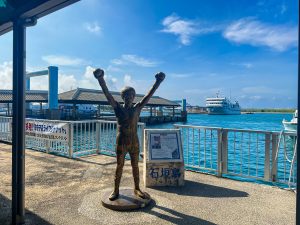 In Iriomote Island, there are two ports: "Uehara Port" in the west and "Ohara Port" in the east.
It's important to check in advance which port is closer to your destination or accommodation…!
By the way, the port near our lodging is "Uehara Port"! (whisper)
Since the ferry operates from 7 a.m., it's possible to take a day trip from Ishigaki Island as well.
Now, let's get on the ferry right away.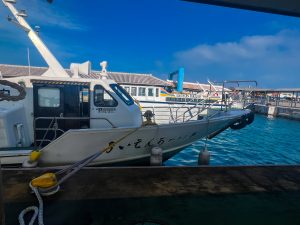 This time, we're heading to Uehara Port. Departure~!
While it's hot outside in Okinawa, the inside of the ship is usually well air-conditioned, so it might be reassuring to have something to cover yourself with if you have children or tend to feel cold.
I'll also provide the boarding time and fares.
Destination: Duration: One-way Fare:
Ohara Port (Eastern): 35-45 minutes; Adults: 2,060 yen
Elementary School Students: 1,050 yen
Uehara Port (Western): 40-50 minutes; Adults: 2,690 yen
Elementary School Students: 1,350 yen
After a 40-minute ride, we have arrived at Uehara Port, enjoying the beautiful sea along the way.

Within the island, you can also use buses, rental cars, rental bikes, or bicycles.
Since availability and quantity may be limited, I recommend checking in advance!
Now, enjoy your wonderful time on Iriomote Island! 🌺