Hello everyone~!
It's nearing the end of September, and I heard it's starting to cool down in mainland Japan. How are you all doing? 🌿
Today, we'd like to introduce the recommended menu at the restaurant Hook, which is partnered with Bridge, located on Iriomote Island!
Since its opening in April 2022, Hook has been supported by the local community and tourists like you, and it's already been a year and a half. Thank you very much for your continued patronage! 🙇‍♀️
Now, Hook's top menu recommendation is…
✨"Acqua Pazza"✨!
Acqua Pazza is an Italian dish made by sautéing seafood in olive oil to bring out its flavor and then simmering it with water, tomatoes, clams, white wine, and more.
The ingredients vary daily because the owner goes fishing, so you'll find a variety of fish on the menu 🐟.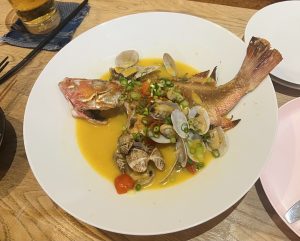 This time, we enjoyed "Himefuedai" (called "Mimijaa" in Okinawan dialect)!
It's incredibly delicious and tender! They simmer the fish carefully, so even the broth is exquisite 😋🍴.
Don't forget to try the risotto made from the soup after you've finished your meal!
Acqua Pazza goes perfectly with wine, so please give it a try when you visit 😌.
Hook has many other recommended dishes, and we'll introduce them next time~!
So, everyone, since it's the changing of seasons, please take care of your health 🕊️🌱.