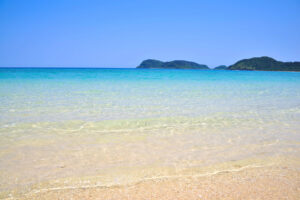 Despite being located on Iriomote Island, this beach can only be reached by boat. It is one of the most beautiful beaches on Iriomote Island.
Although it can only be reached by boat, there is a small village nearby with restaurants and guesthouses, and smartphones can also connect to the internet.
The beach is known for its crystal clear blue waters, white sand, and rich surrounding nature. Five round-trip boats depart daily from Shirahama Port in the western part of Iriomote Island to reach this beach.
Ida no Hama is located in the northwest of Iriomote Island. The beach is characterized by its beautiful sandy beach and clear blue waters. The sand is fine and white, and the sea is clear blue. This beautiful scenery attracts many tourists. The clear waters make it possible to snorkel and dive. In addition, Ida no Hama is known as a nesting site for sea turtles. During the nesting season, the beach may be closed for protection.