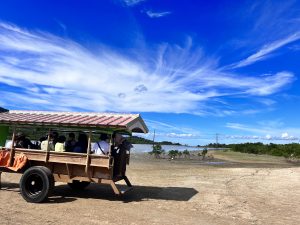 The photo shows a water buffalo cart on Yubu Island and a really beautiful blue sky on Iriomote Island!
Yubu Island is a small island located in Iriomote Island.
The island has tourist facilities such as water buffalo, restaurants, and souvenir shops.
You can also take photos with the water buffalo.
The water buffalo cart is a popular tourist destination for elderly people because you can go around slowly.
Please stop by once if you have a chance.
Water buffaloes sometimes go to the toilet while walking.
It's also one of the natural processes.